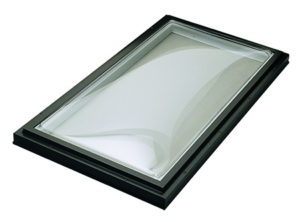 The preferred skylight mount for any type of roof, primarily for use on tile, shingle or wood shakes. Recommended by roofing professionals as the optimum choice for long lasting, trouble free installation.
This type of skylight can be installed on all types of site built curbs, whether pre-existing or new. For additional weather tightness, ensure you use roofing membrane in addition to flashing system on the curb.
21ST Century Roofers offers the industry's most complete selection of curb mounted skylights which are available in a wide range of fixed and venting (manual or electric) models.
For typical residential application Vinyl Curb Mount are used for skylights less than 5' x 5' and aluminum thermally broken curb mount for larger models. Commercial applications typically use the aluminum thermally broken outside fastening skylight.