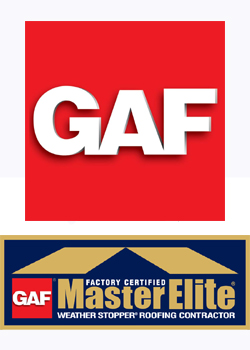 Asking the Right Questions is the Key to Selecting the Right Contractor. . .
To become a factory-certified GAF Master Elite™ roofing contractor, we had to show that we are:
Fully Licensed
Fully licensed by our Province to perform "roofing work"
Adequately Insured for your protection
Have a Proven Reputation for providing quality roofing services throughout the community
Committed to Ongoing Professional Training to ensure quality installation
Because of GAF's stringent standards, only the top 3% of all roofing contractors have qualified as Master Elite™ contractors!
Choosing a GAF Master Elite™ contractor is your assurance that you'll be dealing with a quality, reputable, and dependable professional contractor — not some "fly-by-nighter."
Contact us today for a free in-home consultation and written estimate on your Vancouver Lower Mainland and the Fraser Valley roofing repair or replacement project.


GAF Ltd. Warranty
Comparison Guide*


Material Defect
Coverage*

100%
coverage period


50

 

yrs.

 


(20 yrs. on 3-tab shingles)

50

 

yrs.

 


(20 yrs. on 3-tab shingles)
Covers
roofing

 

system

?

Cost of
installation labor included?




Lifetime

(25 or 30 yrs. on 3-tab shingles)



Lifetime

(25 or 30 yrs. on 3-tab shingles)

Workmanship
Coverage*

100%
coverage period



2

 

yrs.
(Typical coverage

 


offered by contractor)


25

 

yrs.

(20 yrs. on 3-tab shingles)
(Coverage provided and

 


backed by GAF)



Misapplication of certain flashings covered?



2

 

yrs.
(Typical coverage

 


offered by contractor)


25

 

yrs.

(20 yrs. on 3-tab shingles)
(Coverage provided and

 


backed by GAF)


Installer certified?


Yes

Tear-off
costs included? (when necessary)



Yes

(For material defects only)


Yes
(For material defects

 


or workmanship)

Disposal
costs included? (when necessary)


No

Yes

 


(For material defects

 


or workmanship)

Problem Prevention

Exclusive 40-point factory inspection?


No

Yes

Peace of Mind*


"Maximum" wind coverage up to 130 mph Category 3 hurricane wind speed
available?

Yes

(Not available for 3-tab shingles)

Yes

(Not available for 3-tab shingles)

Warranty
transferable?


Yes

Yes

Free
transfer?


Yes

Yes