GAF Timberline® Lifetime Architectural Fiber Glass-Based Roofing Shingles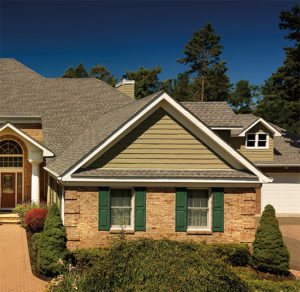 Timberline Ultra HD® Lifetime High Definition® Shingles
For just pennies-a-day more, you can enjoy our best, thickest, most ultra-dimensional Timberline® shingle (and increase your resale value, too!) Thanks to layers that are up to 53% thicker than standard architectural shingles combined with our High Definition® blends, Timberline Ultra HD® Shingles offer a natural beauty and incredible thickness that you'll notice and appreciate. (Not to mention how much that they can increase the resale value of your home!)
Homeowners Best Investment…
Just pennies-a-day more than standard architectural shingles.
Ultra-Dimensional Look.
Up to 53% thicker, Timberline Ultra HD® shingles feature GAF's "High Definition" color blends and enhanced shadow effect for an ultra-dimensional look on your roof
Class A fire rating from Underwriters Laboratories, the highest rating possible
Designed with Advanced Protection® Technology, which minimizes the use of natural resources while providing superior protection for your home
Dura Grip™ Adhesive seals each shingle tightly and reduces the risk of shingle blow-off.
Shingles warranted to withstand winds up to 130 mph.
Algae StainGuard® Protection…
Helps ensure the beauty of your roof against unsightly blue-green algae
Warranty Peace of Mind…
Lifetime ltd. transferable warranty with Smart Choice® Protection (non-prorated material and installation labor coverage) for the first ten years
Perfect Finishing Touch…
Use Timbertex® Premium Ridge Cap Shingles or Ridglass® Premium Ridge Cap Shingles
FREE ESTIMATE CONTACT FORM