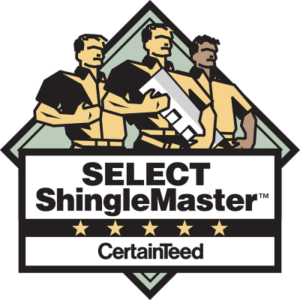 SELECT SHINGLE MASTER – A Master Shingle Applicator has studied installation techniques for a complete shingle roof system, including the method for installing all CertainTeed shingles for best performance and appearance.
After passing the Select Shingle Master Applicator test, this ensures our trade knowledge, good workmanship practices, warranty compliance and provides continuing education in every aspect of shingle installation techniques.
CertainTeed warrants that its shingles will be free from manufacturing defects, and provides the extra assurance of SureStart™ protection. Below are highlights of the warranty for Landmark®.
SEE A FULL LIST OF ROOFING PRODUCTS FROM CertainTeed
10-year SureStart™ warranty (100% replacement and labor costs due to manufacturing defects)
10-year StreakFighter® warranty against streaking and discoloration caused by airborne algae
15-year, 110 mph wind-resistance warranty
Wind warranty upgrade is available for Landmark up to 130 mph. Specified CertainTeed starter and CertainTeed hip and ridge are required
FREE ESTIMATE CONTACT FORM